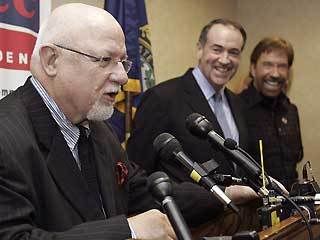 Now that Mike Huckabee is surging in the polls on the strength of a tiny shred of likeability notably absent from any of the other GOP frontrunners, he's decided he needs to pull together a crack team that is ready to take his "good guy" message to the people.
He's already got Chuck Norris at his side to neutralize the pull of Oprah, should he face Barack Obama in the General Election!
And now, he's got
a new National Campaign Chairman
. That's right - the same Ed Rollins
who is behind the sleazy California ballot initiative
to steal electoral votes, whose operatives
have been caught using a "bait and switch" scheme
to get petition signatures from people thinking they are fighting children's cancer!
Yeah, Mike Huckabee's a real good guy!