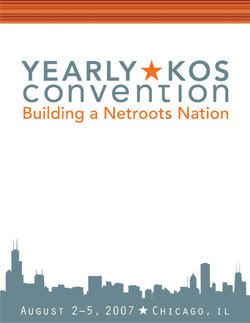 At Left-Over, we're betting that, despite
Bill O'Reilly's threats
to "destroy" Daily Kos, the Yearly Kos Convention will go on, and both Left-Over and I are going to be there. (
Update
: Left-Over will only be there in spirit, ironically
directly
due to the stupidity of the Republicans in the California State Senate, but don't tell
them
that!)
Since I didn't attend last year, it's hard to say whether I will have the time or ability to focus on posting any substantial thoughts while I'm at the conference, but rest assured that I will have my trusty TREO available to upload any good pics I can get, with at least some brief commentary or snarky caption, depending on what is called for at the time.
I've been poring over
the schedule
, trying to balance my desire to hear particular speakers I admire and respect, with specific topics of interest. There are, of course, too many in each category to possibly hit them all, but a couple of sessions strike me as "can't miss" opportunities.
At this point, these are the ones that have risen to the top of my wish list:
Blogging the Libby Trial
, with Emptywheel (of
The Next Hurrah
, and any other credible blog she wants to post on), Christie Hardin-Smith (of
Firedoglake
) and Jeralyn Merritt (of
Talk Left
).
Left Behind by the Right
, with Arianna Huffington, Cenk Uygur (of
The Young Turks
, a personal favorite!), David Brock, and John Dean.
A Conversation with Anthony Romero
, with, um, Anthony Romero (ACLU President, and the only guest I've seen whose infectious enthusiasm allowed him to talk down Stephen Colbert) and Glenn Greenwald (of
Salon.com
, who apparently will hold up the other end of the conversation).
Countering Corruption in Congress and the Bush Administration
, with Justin Rood (formerly of
TPM Muckraker
) and Rep. Steve Cohen (D-Tenn), who is burned into my mind for the first 2 ½ minutes of the following exchange during the testimony of Monica Goodling - which led conservatives to scream, "What if she had been a Muslim being grilled by a Republican?" followed by
my response
to their question:
Of the entire conference, I think my biggest dilemma involves the
Presidential Leadership Forum
, where the second half will consist of "breakout sessions" with the individual Democratic candidates. This means I will have to choose only one candidate.
Do I opt for Obama, to hear my current favorite, but where I'll surely be packed in like a sardine, wishing I was Yao Ming so I could actually see the man?
Do I opt for Edwards, so I can listen to that charming drawl and the most passionate expression of my progressive ideals, all with the added bonus of seeing what a $400 haircut looks like?
Do I opt for Hillary, in the hope of catching a glimpse of cleavage? (Just kidding! Really, I'd rather see Bill Richardson's cleavage!)
Or do I go for sheer entertainment value (and a chance at an actual one-on one exchange) and opt for Mike Gravel?
Oh, the decisions are making my brain hurt!