First, the "
treasonous
" trio of Bush (in the speech shown above), followed by McCain and Lieberman, all decided to
suggest
a comparison of Barack Obama and his supporters to Nazi appeasers.
Not surprisingly, Obama and all of the Democratic leaders
responded
in appropriately harsh fashion.
But I don't think this is enough!
I have reached the point where I believe that Barack Obama
should make his willingness to investigate and prosecute the crimes of the Bush administration into a campaign issue!
I used to accept the idea that such a position would undercut Obama's message of bipartisanship and unity, and would become a distraction from fixing the problems faced by the country.
Now, I have come to think that the despicable actions of the Bush administration, and the fact that they have happened without consequence,
is
one of the major problems faced by the country!
If Obama can frame this issue as a way of "reclaiming the soul of the country" for both Democrats
and
Republicans, he could probably merge the themes of hope and redemption to gain widespread support from all but the most loyal Bush dead-enders (who would vote for McCain anyway!)
He would also make it impossible for McCain to run away from the current president, because he would force McCain to debate in public the issue of whether Bush's legacy should be protected by turning a blind eye on the evidence.
As an added bonus, Obama can probably count on the clueless Bush to make an endless string of despicable comments, such as his recent ones, with each helping to cement the disdain a majority of Americans have for him. And each time, McCain will be forced to embrace or reject these statements in the context of deciding how much he wants to avoid being seen as a "Bush appeaser!"
[Update]
Apparently, Americans aren't the only ones disgusted with Bush, as depicted in this image offered with the verbatim caption from Reuters: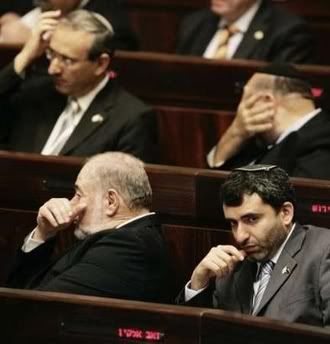 Members of the Knesset listen as U.S. President Bush speaks to the Knesset in Jerusalem Reuters via Yahoo! News - May 15 8:18 AM