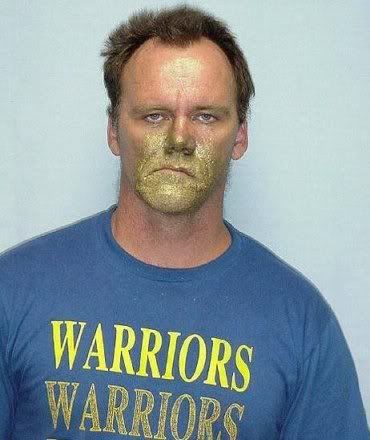 I started wondering when the residents of my state elected Arnold Schwarzenegger as their Governor, but
this poll
on the recent
proposal
to split California's electoral votes
really
has me worried:
The Field Poll found that 47 percent of registered voters back a change to California's system for electoral votes, with 35 percent opposed. Republicans generally support the change more than Democrats.

When pollsters explained the political implication that Democratic presidential candidates might lose some electoral votes under a proportional system, the numbers changed: 49 percent supported the change and 42 percent opposed it (my emphasis).
In-f**king-credible! You can argue for a
national popular vote
all you want, and I'll be right there with you. But for
any
State with a clear majority of Democratic
or
Republican voters to consider a proposal like this, without having it apply equally to all other States, is patently ridiculous!
If you are a Californian who plans on voting Democratic in 2008, and you consider this a reasonable proposal, please consider the following "back of a napkin" analysis:
According to the
most recent statistics
, California has about 15.6 million registered voters and 55 electoral votes. That's 285,000 voters per delegate. Currently,
Republicans hold 19 congressional seats
, so presumably this proposal would give those 19 delegates to the Republican candidate. That's 19 x 285,000, or the approximate equivalent of 5.4 million votes.
If you are planning to vote Democratic in 2008, voting for this measure would potentially
negate your vote
, plus the votes of every other Democratic voter you have ever known, or will ever know, in your life! Hell, it would probably negate the votes of every Democratic voter you, or anyone else you know, will ever know in their lives!
For most people, it would probably even go so far as to negate Kevin Bacon's vote!
And the main argument presented in favor of the proposal –
that it would increase California's influence by encouraging candidates to campaign here?
Absolute horseshit!!!
Consider that California currently
has 55 electoral votes
, and assume that under this proposal 19 of them would go to the Republican candidate, with the remaining 36 going to the Democratic candidate. If this measure were to pass, 19 Republican votes would cancel out 19 of the Democratic votes, leaving the state with the fifth largest economy in the world with the same electoral clout as the State of Michigan, which currently has 17 electoral votes; and exactly half of the electoral clout of the State of Texas, which currently has 34 electoral votes!
Any Democratic voter in California
who even signs a petition
to get this measure on the ballot deserves to be immediately lobotomized!
Not that I'm advocating lobotomies, mind you, because
that
would certainly increase the pool of Republican voters, and if this measure passes and the Republicans pick up another 6 congressional districts,
California would be reduced to the electoral clout of the State of Utah!