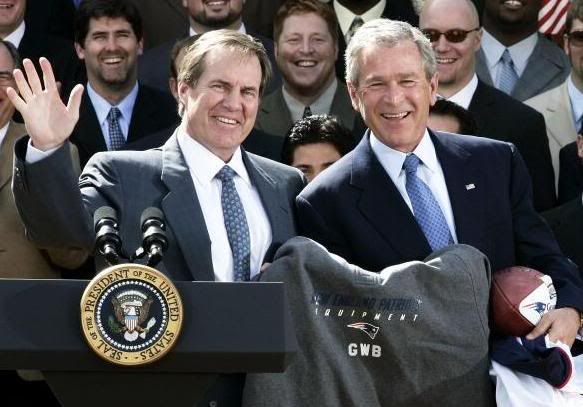 So it sounds like Karl Rove is working for the New England Patriots now that he's left the White House!
I always thought something was fishy when the Patriots rose from obscurity to win the Super Bowl, behind an unsung rookie,
Republican-poster-boy
, quarterback, in the same year that we got stuck with the "Patriot" Act!
It just seemed a little too obvious, so now I'm not surprised to find out just what the Patriots
are willing to do
to keep winning:
This episode represents a calculated and deliberate attempt to avoid longstanding rules designed to encourage fair play and promote honest competition on the playing field," Goodell wrote in a letter to the Patriots.
This may be an insignificant, isolated event that has no affect on the future prospects for a Patriots season in which they are a huge favorite to win the Super Bowl. On the other hand, given their connection to the GOP (Belichick is also a
Republican donor
), it could also be the tip of a huge iceberg of deception that reaches from this incident all the way back to the secret, improper, and unethical influence on the NFL referees' interpretation of the
Tuck Rule
!
I'm just sayin'