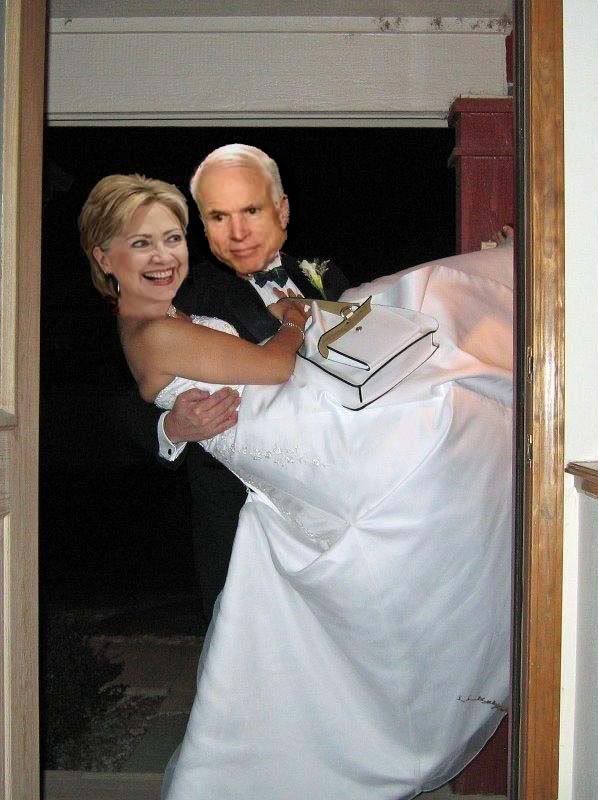 Talk about
lobbing a softball
while thinking you are unhittable:
In a Cabinet-style setting, surrounded by retired military leaders, Sen. Hillary Clinton said the public should ask whether Democratic presidential rival Barack Obama has met the criteria needed to become the nation's commander in chief.

"I think that since we now know Sen. (John) McCain will be the nominee for the Republican Party, national security will be front and center in this election. We all know that. And I think it's imperative that each of us be able to demonstrate we can cross the commander-in-chief threshold," the New York senator told reporters crowded into an infant's bedroom-sized hotel conference room in Washington.

"I believe that I've done that. Certainly, Sen. McCain has done that and you'll have to ask Sen. Obama with respect to his candidacy," she said.

Calling McCain, the presumptive GOP nominee a good friend and a "distinguished man with a great history of service to our country," Clinton said, "Both of us will be on that stage having crossed that threshold. That is a critical criterion for the next Democratic nominee to deal with."
Until now, Obama's responses to Hillary's attacks on the issue of readiness have been limited. While she cited "a lifetime of experience" as her evidence, without any substantiating detail, all he could do was question what in her lifetime of experience she was talking about.
And although she clearly doesn't answer the question, the nebulous nature of a "lifetime of experience" allows her free rein to bullshit to the satisfaction of her gullible supporters.
But "crossing a threshold" is different! Crossing a threshold doesn't occur during a long accumulation of nebulous lifetime events.
Crossing a threshold requires a moment!
Obama now has the opportunity to ask some more specific questions:
1. When was the moment you crossed the commander-in-chief threshold?
2. When was the moment that Bill Clinton crossed the commander-in-chief threshold?
3. Do you feel that George Bush
has ever
crossed the commander-in-chief threshold?
4. If not, what does it mean to the country when someone who has never crossed the commander-in-chief threshold
pretends that they have
!
One of primary "skills" demonstrated by Hillary and most of her surrogates during this campaign is the ability to evade questions by authoritatively answering, with encyclopedic detail, some other question from an alternate universe where everything can be turned to her political advantage.
She needs to be forced to answer the actual question being asked, and since she brought it up, revealing the moment she crossed the commander-in-chief threshold would be a good place to start!