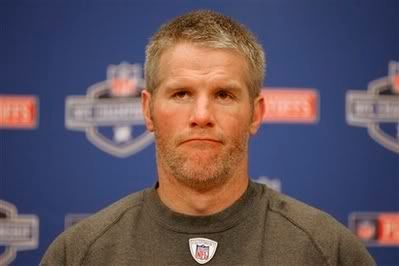 In
a press conference held today
in Green Bay, Wisconsin, Brett Favre criticized fellow quarterbacks, Tom Brady and Eli Manning, claiming that the two will stop at nothing in their efforts to make each other look bad on February 3rd in Arizona when they meet in Super Bowl XLI.
"I'm just going to keep practicing hard, making sure that I continue to work toward my goal of winning the Super Bowl. I'm a quarterback, not a football strategist. All I can do is be positive and spread my message of overcoming adversity, and I'm confident that I'll be on top when the final whistle blows."
Favre, in his 16th season with the Green Bay Packers, says he's made it his life's work to focus, in an intensely personal way, on winning the Super Bowl, ever since he lost to the Denver Broncos in the 1998 contest.
"Brady and Manning are being very immature. They are determined to yell out plays at the last second, just to make sure they get the last word in! With all due respect to my fellow quarterbacks, they are both immersed in studying the minute details of past history, scanning for weaknesses and planning to find ways to surprise each other by catching the opposing team unprepared."
"I'm not like that. I'm going to do what's right as I prepare to head to Arizona. I'm the one who is acting like an adult, not like a child playing a child's game. Someone has to show the maturity that it takes to stay above the fray while seeking a Super Bowl victory!"
Favre also had some harsh comments for teammates on both the Patriots and Giants, as he spoke before a partisan Packer crowd.
"You will see the Patriots and the Giants players working over the next two weeks on elaborate and deceptive plans to push and shove each other around the football field. I don't believe in those kind of tactics. I think they demean the game of football, and I won't participate in them!"
"My team is owned by the fans - not like those greedy franchises who take millions and millions of dollars from corporate interests. It's about time we had a Super Bowl quarterback who represents the people. That's why I'll continue fighting every single day to win the Super Bowl!"