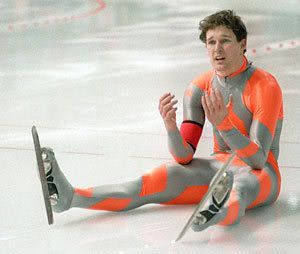 According to Mitt Romney
, his second place finish in the Iowa Caucuses is the equivalent of an Olympic Silver Medal, but that doesn't mean he won't go on to win a Gold Medal in his later events!
And then he presented his evidence, in the form of a celebrity supporter who won't exactly leave Chuck Norris shaking in his boots:
Reinforcing that message was Olympic gold medal speed skater Dan Jansen, who said Iowa's caucuses are only the first of many state contests that will determine the nominee.

"I was a sprinter. Mitt Romney is a marathoner," Jansen said.
So, using
Jansen
as his model, I guess we can expect Romney to finally win his first State primary sometime during the 2020 campaign season.
But I'm sure he'll continue to work hard setting World Spending Record after World Spending Record, until he finally achieves his goal!