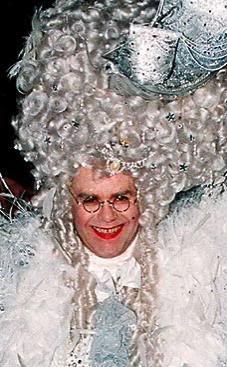 That would be Elton John, who may have saved Hillary Clinton's ability to run TV ads, despite the
lackluster performance
of her "My Pennsylvania" fundraising drive.
Shown above in an earlier photo, apparently trying to show solidarity of hair color with Hillary's core supporters, John's benefit concert on Wednesday
was reported
to have raised $2.5 million – the exact amount of her fundraising goal for TV ads for the Pennsylvania primary.
I couldn't find any video of the concert, so I'll just have to settle for this clip of Elton practicing his upcoming introduction of Hillary, presumably while traveling through the airport on the way to the performance.