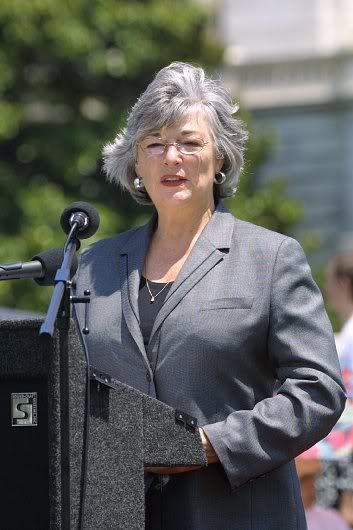 Dear Rep Woolsey,
I recently
wrote
to you regarding my concerns about your ongoing support of Hillary Clinton, despite her comments suggesting that John "100 years in Iraq" McCain would be a better president than Barack Obama.
I was concerned because I did not understand how a vocal critic of the Iraq war would support a candidate who voted to authorize that war, and who voted for a measure that brings us closer to a similar war in Iran, over a candidate who did neither of those things and who got a significant majority of votes from her own constituents.
Your
response
was appreciated, although you maintained that you continue to support Senator Clinton, because you indicated that your support would not cause you to vote to overturn the will of the voters, in the form of a back room deal, if Senator Clinton doesn't win the majority of pledged delegates.
I am writing again now, after Senator Clinton's recent remarks about "obliterating Iran" with nuclear weapons, and after increasingly negative attacks on the patriotism and character of a fellow Democrat that are hurting the ability of either of them to win against John McCain.
Representative Woolsey, at this point, it has become clear that Senator Clinton has no chance to catch Senator Obama in the pledged delegate race. She will not win the nomination without a "back room deal" centered on arguments that the voters should be disregarded in favor of some other rationale than the one both candidates agreed to at the beginning of the race.
Considering that you have already admitted that your conscience won't allow you to overturn the votes of the American public, and that Senator Clinton is taking a path that is rapidly destroying the potential for unity in the Democratic Party and increasing the chances of a McCain victory with endless war in sight, I implore you to reconsider your formal support of Senator Clinton.
Otherwise, in my view, you might as well resign from the Out-Of-Iraq Caucus, because your lack of action seems to show more concern for Senator Clinton's ego than for actually getting out of Iraq, or avoiding getting into another Iraq, or worse, in Iran!
Sincerely,
seenos
(By the way, I also sent a signed copy of this letter to Woolsey's office via snail mail)